Axians positioned for 'possessing innovative solutions to cater to future NaaS demands'.
Axians position in the quadrant identifies them as one of the major companies offering NaaS across the globe
.
The report shows Axians to be in a unique position as a top emerging leader in The Global Network as a Service Market quadrant 2021
.
The report, by market research company MarketsandMarkets™ Research Private Ltd, identifies emerging leaders as;
Companies [that]

are concerned

about their product portfolios and have robust potential to build strong business strategies to expand their businesses and stay at par with star players operating in the market
The report of the NaaS market involved the extensive use of secondary and primary sources. With In-depth interviews to verify critical qualitative and quantitative information and assess the market's prospects. The respondents included key industry participants, subject matter experts, C-level executives of key market players, and industry consultants.
Network as a Service companies were profiled as key market players, such as top and emerging vendors; to provide a comparative analysis based on their business overviews, regional presence, product offerings, and business strategies; and illustrate the market's competitive landscape.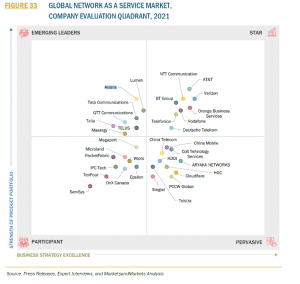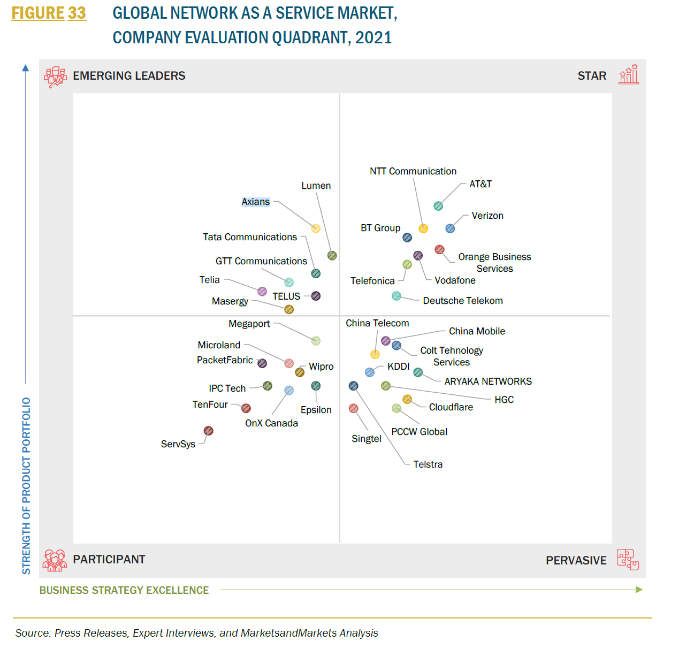 Graphic: Global Network as a Service Market Company Evaluation Quadrant, 2021
Daniel Thomas, Head of Solution Development at Axians UK says;
The NaaS market is still in the incubation phase. More and more companies are aware of the concept and are demanding information. In Europe a number of countries are showing strong growth in the NaaS market.
Axians offers global network infrastructure solutions and services on a pay-per-use subscription model. Offering next-generation networks based on software-defined and cloud technology. NaaS includes daily platform management and proactive services such as lifecycle, release and performance management  to ensure its customers' workforce experiences excellent connectivity. Axians NaaS portfolio includes LAN, Wi-Fi, SD-WAN and Network Security.
Troy de Backer, Global Transformation Lead XaaS at Axians says:
Axians NaaS is a great example of how Axians DNA nurtures the invention, innovation and regional expansion of locally developed XaaS offers. By developing locally Axians can develop XaaS offers that truly solve (business) challenges for the customers that we serve. With the shift to pay-per-use and cloud, further accelerated by the Covid pandemic demand for technology that is flexible, scalable, easy to consume and solves real business challenges is at an all time high.