A host of technological possibilities are in view for the connected stadiums of tomorrow. The digital environment at the stadium must be operational from one end of the experience to the other, from the moment the fan buys their ticket and throughout the event.
Technologically, never has a European tournament been so connected as the EURO 2016. The 10 stadiums across France, most of them revamped for the occasion, offered a range of innovative connected services, which were particularly appreciated by fans. And it's new technologies, like very high-density coverage, which made this kind of connectivity possible. But a host of other technological possibilities are in view for the connected stadiums of tomorrow, and investments will continue now the competition is over.
"Real-time-experience" generation
You just have to look at the crowd in a stadium before a match, whatever the sport. Most will be taking pictures, making selfie videos on Snapchat or Periscope, streaming video to their devices or interacting on Facebook Messenger, Twitter or Instagram. This is the 'real-time-experience' generation, who share everything, all the time and with the whole world. Everyone at a stadium today, whatever their age, expects this kind of public venue to let them share their experience as it happens. So they need a connection that works perfectly in all stadiums, whether it has 35,000 seat capacity, such as the highly connected Allianz Riviera stadium in Nice, or 80,000 like the Stade de France.
A stadium can no longer make do with a low-density Wi-Fi infrastructure, for example, because people wouldn't come back. If a stadium doesn't have a proper digital environment, it won't attract as many visitors at subsequent events.
As well as the loss of support a team could suffer, the club's ability to break even financially could even be compromised.
Digitization isn't just for fans
Not so long ago, stadiums could be likened to a small business, or in some cases a family firm, which survived on the traditional recipe of matches and directly sport-related marketing. Today's sports venue, however, is more like a fully fledged shopping mall. There's the ticket offices, of course. But also stores where you can buy team kits and club merchandise, plus food outlets and conference suites.
On days when there's no sporting fixture, the stadium is open to tourists. Customers can visit, have lunch and buy souvenirs. And companies can even hold seminars at the venue.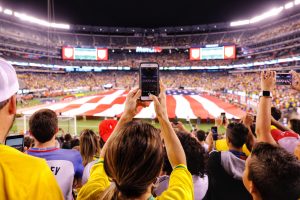 Then on match days, when the venue is packed, a genuinely multinational business operation comes to life. And its connectivity infrastructure must be up to the task. It must meet the challenges of a complex architecture (car parks, outside areas, lounges, various levels of the stands, gangways, etc.), huge demand on bandwidth for web browsing, email (with the necessary upload speed), video streaming, videoconferencing, sharing pictures, etc. and support for a wide variety of mobile devices.
Lastly, the media must also be able to film and upload high-definition video to their editorial offices, with stringent demands in terms of quality, performance and bandwidth.
To cope with these fluctuating loads, the stadium, like a multinational, needs a solid and agile cloud infrastructure, suitable for routine activity and able to massively increase capacity for high-attendance fixtures.
Delivering end-to-end connectivity
The technologies are diversifying and a simple 4G or Wi-Fi connection is a thing of the past. At the Stade des Lumières in Lyon, for example, fans can be guided to their seats, thanks to Google Maps and virtual reality. Fan cams have been installed at the Allianz Riviera stadium in Nice. At the start of a match, the camera takes a 360° picture, which shows all supporters in the stands. After the game, fans can locate themselves and their friends by zooming in on the image. This technology also offers security functionality, should an incident occur at the venue. These innovative new applications still aren't widely deployed in France, but they must be adopted if falling attendance at stadiums is to be avoided.
Lastly, the stadium must also be connected before an event. Take a fan purchasing a match or concert ticket on the web, for example. They'll then be invited to download the stadium app, which tells them how to get there, with the various road routes, car parks and public transport options. Thanks to cross-referenced big data sources, fans can plan their journey times and even choose alternative routes to avoid congestion on the day.
Once at the venue, having presented their ticket directly via their smartphone screen, they're directed to their seat, thanks again to the stadium app. During the match, they can check waiting times at the in-stadium food outlets, or even place an order for delivery to their seat. In the not-too-distant future, supporters at the connected stadium will be able to replay important match action in slow motion on mobile devices, just moments after it happens, or change the camera angle on the famous goal, before the shot is taken.
This is the direction connected stadiums need to go in the years ahead. The digital environment at the stadium must be operational from one end of the experience to the other, from the moment the fan buys their ticket and throughout the event. Smarter connectivity at stadiums is fundamentally important for all, whether official partners or stakeholders involved closely or more remotely in a tournament like EURO 2016. Brands have clearly understood this and are developing more and more content on the basis of this connectivity, such as dedicated match apps, pushed on the day, smartphone games inspired by the fixture and device-based events for supporters. This type of interaction is only possible if suitable, dependable and efficient infrastructure is in place. And ultimately, this type of infrastructure has the potential to transform France's stadiums into financially viable venues, but also enable them to compete with the flagship venues of the country's European neighbors.