VINCI Energies is expanding its expertise for the German market with the acquisition of SAP specialist Lynx-Consulting.
The system integrator with a strong focus on SAP will become a new business unit of the ICT brand Axians, which is thus expanding its portfolio for the digital transformation of business processes. Lynx is headquartered in Bielefeld with offices in Düsseldorf, Bocholt and Minsk (Belarus). Its most important customers include well-known medium-sized companies as well as international corporations in sectors such as retail, consumer goods, mechanical and plant engineering, including Miele, Storck and Weidmüller. Michael Loth, Managing Director and responsible for business development at Lynx for more than seven years, will continue to manage the unit and expand business activities with existing and new customers.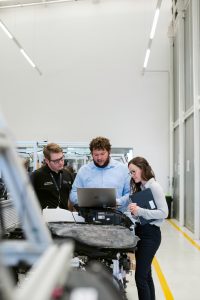 Lynx-Consulting GmbH was founded in 1989 and has successfully completed more than 300 digital transformation projects, including projects based on the new SAP S/4 HANA Business Suite and SAP Fiori. With Lynx's high level of IT management consulting expertise and technology knowledge for strategic processes regarding SAP HANA, Axians will be able to support companies during the decision phase even more comprehensively in the design of IT process strategies. Lynx employees, in turn, will have access to VINCI Energies' entire know-how. The close integration of Axians with the group's affiliated brands will now be available to Lynx's existing customers. Companies in the mechanical and plant engineering sector, for example, will benefit from the close collaboration with Actemium, VINCI Energies' brand for electrical engineering and automation technology.
SAP systems are the backbone of companies across all industries because they control highly critical business processes. The addition of expertise, including application management and process strategy, will make Axians one of the leading SAP specialists in Germany.
Schlemmer Dr. Reinhard
Deputy General Manager VINCI Energies Europe
Shared know-how for customers
Jacques Diaz, CEO of Axians Germany, said: "Lynx's high level of application consulting and implementation expertise completes our SAP portfolio, enabling us to serve our customers holistically in the future. Together, we can offer companies a seamless approach to building and managing their SAP landscape, from enterprise-wide systems to department-specific applications. As a 360-degree partner for the digital transformation, Axians has significantly strengthened its competence in strategic IT projects such as the migration from SAP ERP 6.0 to S/4HANA and the re-implementation of systems."
Nils Lühe
+49 175 583 9135
nils.luehe@vinci-energies.de
www.vinci-energies.de
Barbara Schrettle/ Anton Bühl
+49 89 1795918-0
ved@akima.de
www.akima.de
About VINCI Energies
In a world undergoing constant change, VINCI Energies focuses on connections, performance, energy efficiency and data to fast-track the rollout of new technologies and support two major changes: the digital transformation and the energy transition. With their strong regional roots, agile and innovative, VINCI Energies' business units boost the reliability, safety, sustainability and efficiency of energy, transport and communication infrastructure, factories, buildings and information systems.
2019: €13.75 billion revenue // 82,500 employees // 1,800 business units // 56 countries
About Axians
Axians supports its customers — private-sector companies, public-sector entities, operators and service providers — in their infrastructures and digital solutions development. To this end, Axians offers a comprehensive range of ICT solutions and services spanning business applications and data analytics, enterprise networks and digital workspaces, datacenters and cloud services, telecommunications infrastructure and cybersecurity. Axians's specialized consulting, design, integration and service teams develop bespoke digital transformation solutions that contribute to successful business outcomes for its customers. Axians is a VINCI Energies brand.
2018:  €2.3 billion revenue // 10,000 employees // 22 countries