A virtual classroom for remote training to overcome travel restrictions
Axians provided Fujirebio Europe with a tele-education system to facilitate online learning, so that the business could continue with development and training of their partners & customers in spite of COVID-19 travel restrictions.
Fujirebio Europe (formerly Innogenetics), delivers innovative solutions to healthcare every day, anywhere in the world. With their products, physicians make fast and accurate diagnoses in various disease areas such as infectious diseases (e.g. Hepatitis C, HIV), neurological diseases (e.g. Alzheimer's disease), oncology and genetic diseases (e.g. muco-viscidosis) in order to be able to start the appropriate treatment afterwards. The development and production of their diagnostic tests takes place on their site in Ghent after which they are sold by commercial teams to hospitals and clinical laboratories worldwide. They belong to an international group with offices and colleagues in Asia, Europe and the US. The European headquarters in Ghent employs 130 people. Their European subsidiaries have a total of 50 employees .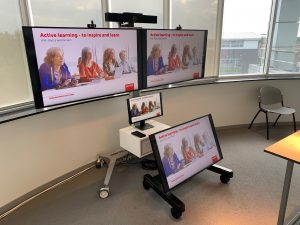 FujiRebio Europe is responsible for the development & training of their partners & customers throughout Europe. Covid-19 travel restrictions made Fujirebio look for a highly interactive tele-education system. FujiRebio chose Axians to supply Barco weConnect, a virtual classroom for ease of use for the trainer, being abl to see and hear all trainees continuously in high quality and to provide  a high level of interaction via chat, polling, quiz and whiteboarding.
Technology
Barco weConnect
Samsung Flat screens
Samsung Flip touch/whiteboard
Poly Studio camera-mics-loudspeaker
AEC – Acoustic Echo Cancelling