Data collection for safer, more reliable and faster transit
As a founding partner in the Container 42 project, Axians is proud to announce that Rotterdam is sending its hyper-smart container around the world. 

Today, Container 42 departed from Rotterdam on a two-year data collection trip. Travelling around the world, its sensors will collect intelligent data. It will measure vibration levels, incline and position, while also providing data for noise, air pollution, humidity and temperature. The Container has solar panels which will also show how much energy is being harvested on container ships, trains or truck. The first stop for Container 42 is Munich, where it will be at the Transport Logistic event in June.
Container 42 and the Port of Rotterdam
Rotterdam is taking a digital transformation lead with ambitious plans to be the 'smartest port'. Container 42 is a metaphor for that transition. The data it collects will log its experience during land and sea transport, recording everything.
The collected data helps to provide insight into the challenges in transport and logistics, contributing to the development of a 'digital twin' of the Port of Rotterdam – a representation of the physical port. The current platform of the Port of Rotterdam Authority has already laid the foundation for this with its IOT solution. This solution was delivered in January through the collaboration of partners IBM, CISCO, ESRI and Axians, under the direction of the port authority.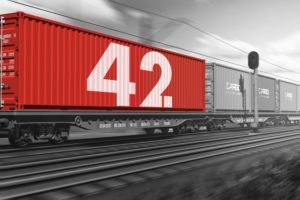 The solution, built on a cloud platform, allows the Port of Rotterdam to collect and process data from sensors on the port. This provides real-time information for infrastructure, water and air to help improve services. It also leads to even safer, more reliable and faster transit, helping Rotterdam to welcome the autonomous ships to port in the near future.
Transport Logistic Munich
Before it embarks on its 2-year journey, you can see Container 42 during Transport Logistic 2019 in Munich on the 4-7th June. It is one of the best-known international events for the Logistics and Transport sectors.
Container 42 will be near the eastern entrance to the fair hall, and experts from the Port of Rotterdam Authority and partners will provide the latest innovations.
Proud partners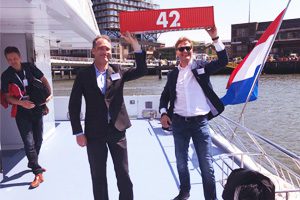 Container 42 is a platform for intensive collaboration between the following parties: Port of Rotterdam Authority, IBM, Cisco, Esri, Axians, Intel, HyET Solar, Van Donge & de Roo, Awate.ai, Bette Batteries, Simwawe, Advanced Mobility Services, Kalmar and Shipping Technology.